Student Audition Information

DFW NATS SPRING 2021 VIRTUAL AUDITIONS SCHEDULE
February 14-March 15:  Registration
March 29:  Deadline for submitting YouTube videos 
April 5-8: Preliminary adjudication 
April 10-12:  Semi-final rounds
April 13: Finals announced and rounds
April 15: Finals Awards Recital
INFORMATIONAL ZOOM MEETINGS January 16th 3:00, OR February 4th 7:00
JUDGES ZOOM MEETINGS March 24th 7:00, March 28th 3:00, OR March 30th 7:00
Click to download our official NATS Audition Regulations
NEW ADDITIONS TO SPRING 2021 AUDITIONS!  
CLASSICAL DIVISIONS will include a NEW middle school division for 6th-8th grade! 
NEW CCM DIVISION for High School grades 9-12, Young Adult Division, and Adult Division.  
Registration will be through AuditionWare, via the "Member Home" of the national NATS website.
https://www.nats.org/cgi/page.cgi/members_home.html
Before you begin, please have the following required information of  your student:
First Name
Last Name
Phone Number
Email
Birth Date
Audition Category
Repertoire Selections (Title, Composer, Language)
Pianist Name

Please note that we are now using the National category names and numbers, which may be different from the last time you entered students.   If you have a question about a student's eligibility, please ask. It's much easier to fix a problem at the beginning of the process than the end.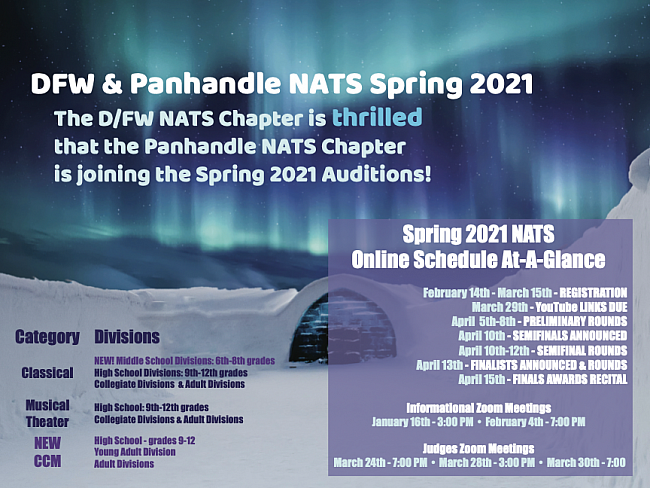 .